Meet Eleanor Castracane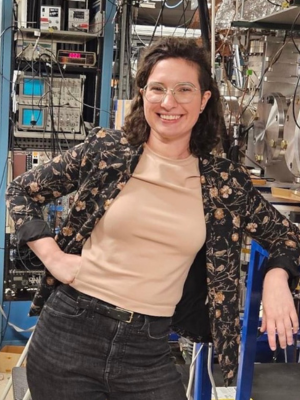 Tell us a bit about yourself: I grew up in Queens, New York. I did a combined B.S./M.S. program in chemistry at Stony Brook University on Long Island. While there, I developed an experimental model for the gas-phase synthesis of atmospherically relevant aerosol clusters.
What are you studying/researching? I am in the physical chemistry track in the Department of Chemistry & Biochemistry in the Continetti Group. Specifically, I study gas-phase ion dynamics, where we use lasers to remove electrons from anions and we see how the resulting neutral molecule falls apart. From this, we can learn energetic information that can be used as a benchmark to improve future theoretical calculations. I anticipate graduating in 2022.
Describe your involvement in the UC San Diego community: I have been a Teaching Assistant for CHEM 7L (General Chemistry Lab) and CHEM 100A/B (Analytical/Instrumental Analysis Lab). I have been a cohort representative for our Chemistry Graduate Student Council since my first year at UC San Diego. Through CGSC, I am a co-chair and founding member of our Mental Health Support Group. We meet once a month to discuss graduate student mental health, share experiences and coping mechanisms, and support each other through our trials and tribulations in graduate school. I am also the Recording Secretary for our UC Student-Workers Union, UAW 2865. I have organized around the Cost of Living Adjustment (COLA) campaign as well as bargained COVID-related effects to our contracts.
Why UC San Diego? I thoroughly enjoyed my master's research and wanted to continue studying gas-phase ions and developing novel instrumental techniques, so I came here to work under my M.S. advisor's Ph.D. advisor! The lack of snow is also a huge plus. I'm so grateful for the support system I've formed here. Knowing that there are students, faculty, and staff who have my back has definitely facilitated my graduate school experience.