BOOSTIN' OUT FOR BASIC NEEDS
If 10K students receive their COVID-19 booster by the end of the year, Chancellor Khosla will provide $50K to the Basic Needs Hub to support food security, housing resources, and more.
Get Involved

Indelible Impact
Our graduate students and alumni are changemakers who transform our region and inspire us all to make an impact.
Read Their Stories

Apply for Admission
Learn more about graduate degree programs at UC San Diego and begin the application process today.
Start Your Application

Top Ranked Programs
Learn more about the diverse, innovative, and highly-ranked graduate and professional programs at UC San Diego.
Explore the rankings

All Things Grad
The Graduate Division is the central resource for all matters related to graduate education at UC San Diego.
Meet Our Team
Previous
Next
Study at UC San Diego
We offer a wide variety of academic and professional graduate degree programs and we welcome talented prospective students from across the nation and around the world to apply for admission.
HAVE YOU HEARD?
Dean Antony provides regular updates and shares information outlining campus resources relevant to graduate and professional students.
Transforming Our Region
Graduate students and alumni are anything but ordinary-- they conduct research, mentor undergraduates, become industry experts, and go on to discover novel approaches, patent new technologies, and transform our region for the better in ways both seen and unseen.
Featured Resources
Meet Our Team
Meet the team of professionals who supports your graduate student experience, helping you successfully navigate a path from admission to graduation and beyond.
Degrees & Programs
Advance your career with a graduate degree from UC San Diego - with over 100 academic and professional programs across diverse disciplines, we are confident you will find the right fit.
Funding Opportunities
Explore different kinds of graduate student financial support by applying for extramural and internal fellowships as well as student employment positions.
UC San Diego Training Grants
Learn about the diversity of +70 training programs across campus, access institutional resources for PD/PIs, and discover how to get involved with the newly formed Training Grant Community of Practice.
Learn More
Meet Our Alumni
UC San Diego graduate alumni establish successful careers within exciting fields and are equipped with the skills and confidence to impact their communities and make a difference.
Data & Reporting
Reports about graduate students at UC San Diego, including information on admissions and enrollment, degree completion, student satisfaction, and employment outcomes are available.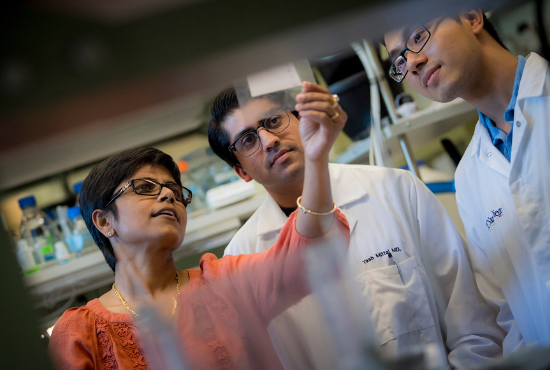 Make an Impact
We are grateful to the many generous donors who choose to support graduate education at UC San Diego and we invite you to join us.