Gautam Ramesh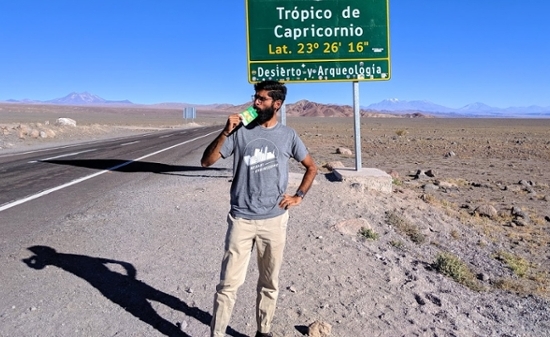 Guatam Ramesh
Q&A with a Fulbright U.S. Student Program Brazil English Teaching Assistant Award
Gautam Ramesh is a recipient of the Fulbright U.S. Student Program English Teaching Assistant Award. Through the award he was able to teach English in Brazil for the 2018-2019 academic year. 
Why did you apply for Fulbright? 
I had so many reasons to apply for a Fulbright. I wanted to have a year to pursue a few scholarly curiosities and achieve personal goals; I wanted to teach; I wanted to travel and hike a lot; I wanted to learn another language, and I wanted to live outside of the U.S. before moving on to the next phase of life. 
What was your experience in the classroom like?
As an ETA, my project is a little different from what was initially described on the Fulbright website (we were told that we would be English Teaching Assistants at a teacher-training institution; we are, rather, teaching university students of all backgrounds). I held weekly conversation clubs where I present a lecture on any topic, and we discuss it in English. I taught an International Relations class and worked with the international relations department at our university to create and translate webpages and publications. My co-ETAs and I also hold a couple of events throughout the year, including Trivia Nights, Game Nights, Movie Nights, etc. All of the activities above are open to everyone, not just our university students.
What was the highlight of your time abroad? 
Learning Portuguese and interacting with Brazilians. It is incredibly exhilarating to be able to communicate with others in a different language. I see it as exploring a unique space only accessible through the language of the other.
How has this Fulbright experience influenced your career? 
I have loved teaching ever since being a Troop Guide in Boy Scouts, and I know I will continue teaching in some way or another in the future.
Why should others apply for Fulbright? 
It's a very well funded opportunity to engage with a different culture in a different language, while simultaneously cultivating skills in your field and applying yourself in any other area(s) of your choice.
Tips for future applicants? 
Be very specific in your essays on how you would get involved in the country you are applying to. Do your research on organizations you could work with. Remember, depending on your country, you could be placed anywhere between the most well-resourced metropolis and a town totally off the grid. Have an open mind and no expectations.