Meet Eliza Davidson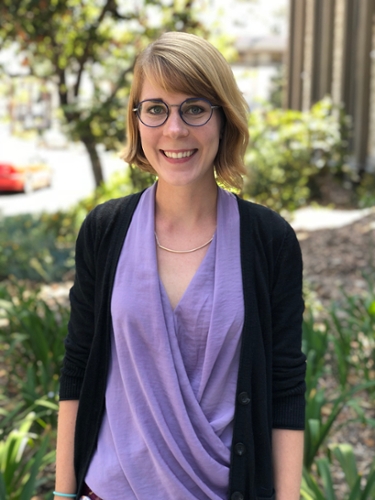 Tell us a bit about your background: I am a third-year student at the San Diego State University/ UC San Diego Joint Doctoral Program in Clinical Psychology. I graduated summa cum laude with a bachelor's degree in psychology from Northeastern University in Boston, Massachusetts. Prior to graduate school, I worked as a Clinical Research Coordinator in the Obsessive-Compulsive Disorder (OCD) and Related Disorders Program at Massachusetts General Hospital for two years.
What are you researching/studying? I am interested in clarifying the influence of interpersonal and neurocognitive functioning on the etiology and maintenance of hoarding disorder (HD) and other obsessive-compulsive related disorders (OCRDs) in order to develop and refine targeted treatments. I currently work as a Clinical Research Assistant in the VA under the mentorship and supervision of Catherine Ayers, Ph.D., ABPP on a randomized controlled trial comparing Cognitive Rehabilitation and Exposure/Sorting Therapy (CREST) to Exposure Therapy for Veterans with HD.
Describe the professional experience you have gained or plan to gain while at UC San Diego: In addition to conducting independent research during my time in graduate school, I am excited to gain a variety of clinical experience at practicum sites throughout San Diego and I also hope to teach.
Why UC San Diego? I am thrilled to be a part of a cutting-edge research community with a uniquely warm and collaborative culture. I'm especially thankful for the incredible support from my faculty mentor, lab members, and classmates.