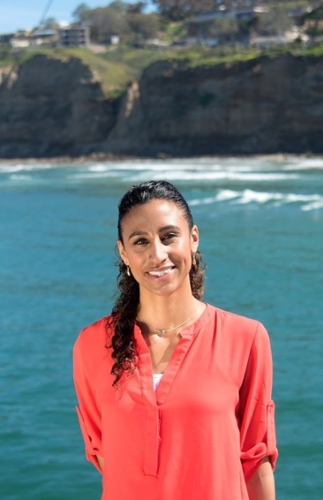 Tell us a bit about your background: I grew up in both Minnesota and Arizona. I first became interested in meteorology at a young age (around ten years old). During my undergraduate studies at Saint Cloud State University in Minnesota, I double-majored in meteorology and hydrology, with a minor in mass communications. In late 2015, I started graduate study at Scripps Institution of Oceanography. I completed my Master of Science in 2016.
What are you studying/researching? I am in my fifth-year of doctorate work in the Climate-Ocean-Atmosphere Program in the Climate Sciences track. Within this program, I focus on extreme weather and water events affecting the western U.S. and other regions of the world. Each winter, I have the chance to participate in fieldwork with colleagues at the Center for Western Weather and Water Extremes (CW3E). So far, I have traveled to a site in Northern California, Ukiah, where they launch weather balloons every three hours (yes, through day AND night!) even in stormy conditions. I have come out of these experiences feeling enthused about the work they do and proud to be part of a team mission.
Describe your involvement in the UC San Diego community: During my time as a graduate student, I served as Vice President Representative of UC San Diego Graduate Women in Science & Engineering (GradWISE), as a Scripps delegate for the United Nations Framework Convention on Climate Change, and as a student representative advocating for graduate research at the California State Capitol. I also volunteer within the community serving as a science judge for the National Ocean Sciences Bowl, a competition for San Diego high school students, and as a mentor for the past four Preuss School Girls in STEAM Conferences, which is geared toward middle school girls who aim to be the first in their family to attend college. Additionally, I make an effort to serve meals to the homeless of San Diego as an Urban Angels volunteer.
Have you been awarded any fellowships?: In 2015, I was awarded the San Diego Fellowship by UC San Diego which supported me during my first 2 years of graduate studies. In 2016, I earned the National Science Foundation Graduate Research Fellowship (NSF-GRF), which has funded me for three years. I also gained helpful experience writing research proposals and goal-oriented statements and receiving feedback through the application process.
Why UC San Diego?: Scripps Institution of Oceanography at UC San Diego stood out for me when I was applying to graduate programs. Internationally, Scripps is a top geophysical science research institution and provides unique training opportunities for students. There are positives about being in an environment comprised of leading researchers in oceanography and climate sciences, and I have found support through mentors and allies at Scripps.