Meet Rachel Flanagan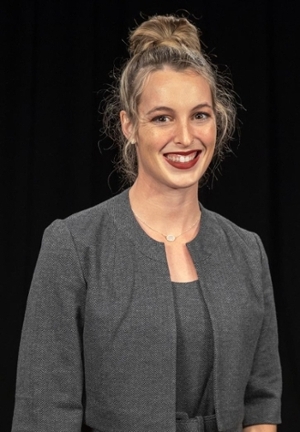 Describe your background: I was born in Monterey, CA, where my parents met during their military service. My mom gave up her career in the Army to raise my brother and me while my dad traveled the world for his career in the United States Marine Corps. I was super lucky to travel the world at a young age, spending nearly 4 years living in Spain and traveling through Europe! When I was in the 2nd grade, we moved back to California, where my dad worked towards his Bachelor's Degree. My parents worked hard to support our family while they both attended college; by earning his B.A., my dad was eligible to become an officer in the USMC. To this day, I admire the tenacity and commitment my parents had to carve out a better future for our family and I am proud of how much my parents accomplished. We finally landed in Maryland, where I attended high school. I grew up playing field hockey, which I still love to this day. In my junior year of high school, I took AP Physics, igniting my passion for physics and engineering. I attended Salisbury University, earning a B.S. in Physics, and the University of Maryland, College Park, where I earned a second B.S. in Mechanical Engineering. I wanted to play field hockey in college as well, but between my parents' divorce and my own challenges in school, I decided to focus on academics. The commitment truly paid off! I was so passionate about learning how the world works and how to create something to make our lives better that I knew earning a Ph.D. in Mechanical Engineering would help me be at the very cutting edge of these life-altering discoveries. Now, I've found my niche here in San Diego as a field hockey coach at La Jolla High School, President of the Graduate Student Association, and I'm hoping to complete my doctoral degree by Winter 2021!
Describe your area of research/ what program or department you are under at UC San Diego: I'm housed under the Department of Mechanical and Aerospace Engineering, where I study the role of material heterogeneities under shock compression and release using atomistic models in collaboration with Saryu Fensin at Los Alamos National Laboratory. This research is highly interdisciplinary as it requires an intimate understanding of mechanics, materials science, data science, and computation.
Why did you choose UC San Diego?: I came to UC San Diego sort of blindly, actually. I was taking my GRE and was cutting it pretty close for graduate school applications, and I decided then and there, after the exam, to send my scores to UC San Diego, UC Berkeley, and UC Davis. I was shocked when my top choice of advisor invited me to apply for the Cota-Robles Fellowship with his recommendation, but I was even more shocked when I actually got the fellowship! I had my top choice of advisor, full funding for 4 years, my dream project, and I knew that my advisor would be able to connect me with amazing collaborators. The stars truly aligned for me to attend UC San Diego.
What has been your favorite part about your graduate experience at UC San Diego?: Like any graduate school, I've had my ups and downs throughout my time here, but my favorite thing about this experience has been the community I've found. A few graduate students in my lab conspired with our advisor to bring myself and another woman scientist into the group, and she has been one of my rocks throughout this experience. Now our group is about 50% women, which is amazing for our field. I've also found community through the various groups I am involved in and the solidarity we share has truly changed my life. Graduate school would be way more miserable without the amazing people I'm lucky to be surrounded by.
Any final thoughts?: I have a really funny story about my journey to San Diego. When I was an undergraduate and I decided to come to UC San Diego, I posted about it on Facebook, to which the person I shared my very first kiss with replied to let me know he lived in San Diego. I didn't think much of it at the time, but after I was settled, we reconnected and have now been together for over 3 years! We lived 3 streets apart in Maryland, but coming to San Diego brought us together - we got engaged just this year! To me, it's an auspicious sign that I was destined to come to UC San Diego and do this work.
Watch Rachel's interview: