Meet Daril Brown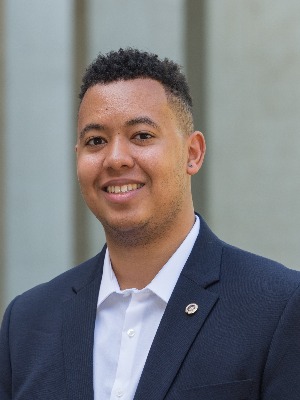 Describe your background: I grew up all over the United States,most notably in both Maryland and Texas. I received a full ride to go to Howard University, in D.C., where I earned my Bachelors in Mechanical Engineering. I developed an interest in both the brain and prosthetics as a child due to my desire to enable my grandfather, who was paralyzed from the waist down, to walk again. I knew going into undergrad that I wanted to conduct research so I searched for any opportunity that would allow me to gain experience in a lab. This led me to work in several different fields and ultimately have one of my coolest summers where I took part in two separate research experiences. One in Buea, Cameroon working on biomaterials and another here at UCSD working on my first Brain-Machine Interfaces project. This summer research experience, which was a part of both the UC-HBCU Pathways and STARS program, was what led me to choose to apply and come to UC San Diego.
Describe your area of research and what department/program you are in at UC San Diego: I am a PhD candidate in the Electrical Engineering Department focusing on Medical Devices. I work in the labs of both Vikash Gilja and Timothy Gentner and in association with Brad Voytek's lab. My thesis research seeks to help establish songbirds as a translational animal model to aid in the development of a human speech prosthesis. Hopefully the insights learned from the songbird motor system will give us new insights in the neural mechanisms that enable human speech.
Describe your involvement in the UC San Diego community: I've been involved in several outreach programs throughout my time at UCSD. I was the instructor for Academic Connection's Introduction to Mechanical Engineering Course through the UC San Diego Extension for two summers. Where I taught and mentored high school students that were perspective UCSD undergraduate students. I was also both a Student Research Mentor and Graduate Advocate for UCSD's STARS program last summer. My first two years at UCSD I played on the UCSD club water polo team. I currently live in grad housing which has been very convenient given the short commute to my research labs across campus.
Why did you choose UC San Diego?:My summer experience at UCSD as part of the STARS program as well a the many opportunities to do interdisciplinary research are what led me to choose UC San Diego.
Have you been awarded any graduate fellowships?: Yes, I am a recipient of both the NSF Graduate Research Fellowship and the UC-HBCU Fellowship. The GRFP application process involved writing two detailed essays one on my personal background and another was a research proposal. Fortunately, I received some guidance and mentorship for the process during the STARS program, which helped immensely.
What has been your favorite part about your graduate student experience at UC San Diego?: My personal growth and the friends that I have made over the years has been my favorite part of my graduate experience. Plus the excellent weather doesn't hurt either.
Any final thoughts you'd like to share?: "Reach back as you strive forward" are words that I try to live by. I did not get here on my own. Ultimately I will not get to where I plan to go without the aid of others. So to those who feel like they are imposters, know that you are not. Everyone you look-up to has not always been the person with the long resume or the amazing credentials, and they certainly didn't get to be who they are without the help of others. So no matter what place you are in your life or career look for mentors that will enable you to grow, and look out for those behind you so that you can do the same for them.