Meet Andy Zhao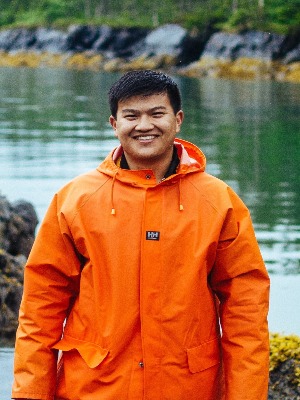 Describe your background: I grew up in Los Alamos, New Mexico, a small town on top of a mountain, in the middle of a desert. My parents worked at Los Alamos National Lab, which is located so remotely since it was the center for the Manhattan Project during World War 2. J. Robert Oppenheimer chose Los Alamos because, as a boy, he fell in love with the Jemez Mountains, horseback riding through the aspen trees and ponderosa pines lining an ancient supervolcano. Growing up in a Lab town definitely made me gravitate towards tinkering with questions and coming up with my own ways of trying to understand the world. I was really interested in nature and how we interacted with it - visiting my local water treatment plant to see where all the poop and pee flushed down the toilets went, learning about all the nuclear waste facilities around New Mexico, exploring the biodiversity of the Jemez Mountains. Parallel to my love of science, I was really into Speech & Debate and competed in Public Forum Debate around the country. I qualified for the National Debate Tournament as a Junior and won enough national circuit tournaments my Senior year to qualify for the Tournament of Champions. In college, I kept pursuing my interest in understanding how nature was bent and shaped by human ingenuity by studying Materials Science and Engineering at Stanford and continued to debate in college as well. I was most inspired by my Materials Science professors who were inventing new solar panels and batteries to help transition society away from fossil fuels, and I knew that is what I wanted to pursue in grad school. UC San Diego is such a bustling hub for those green pursuits, and I thought it would be great to come here for my PhD.
Describe your area of research and what department/program you are in at UC San Diego: I am in the Materials Science and Engineering Program at UC San Diego. I work in the Advanced Materials and Processing and Synthesis (AMPS) Lab, and my PI is Javier Garay. I study how heat moves in liquids for applications in solar thermal energy, nuclear energy, and water desalination. I plan to graduate in 2021.
Describe your involvement in the UC San Diego community: I am part of Energy Club and GSA's Legislative Action Committee on campus. I live in Mesa Nueva. My favorite activity to do on campus is go to the Art of Espresso, drink too much coffee, read a book that I can't put down, and run into a bunch of friends from around campus.
Why did you choose UC San Diego?: San Diego's sunshine and waves relentlessly crash down on me, urging me onwards in my study of them everyday.