Meet

 Penelope Nwaukwa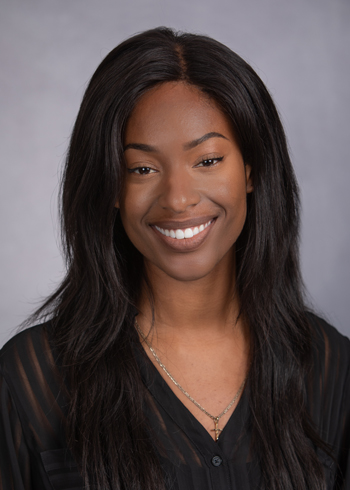 Tell us a bit about your background: I am a southern California native, born and raised in Los Angeles county. For undergrad I went to the University of California, Riverside where I received a Bachelor of Science degree in neuroscience in 2018.
What are you studying/researching? I am currently a second-year pharmacy student here at UCSD Skaggs School of Pharmacy and Pharmaceutical Sciences (SSPPS). I am still exploring my career options for after I graduate but my current interests include ambulatory care and health outcomes and economics research.
Tell us about your professional experience since coming to UC San Diego: My professional experience has grown tremendously since entering UC San Diego. My daily interactions with patients, students, pharmacists, and other professionals have been inspiring and have helped me build confidence in myself and the work that I do.
Tell us about your campus involvement at UC San Diego: Most of my involvement with UC San Diego is at Skaggs School of Pharmacy & Pharmaceutical Sciences with the Office of Admissions and Outreach. I am a student ambassador and part of a new program called the pharmacy under-represented minority program (PUMP) that mentors undergraduate students who are exploring the profession of pharmacy. Additionally, I am a member of the admissions committee and the equity, diversity and inclusion committee. I currently serve as the treasurer for the newly chartered Student National Pharmaceutical Association (SNPhA) UCSD chapter but one of my favorite experiences is volunteering with the UCSD student-run free clinic project where I work as a diabetes care clinic manager to help provide patients with diabetes education and specialized footwear. 
Why UC San Diego? I chose UC San Diego because it is a great place for students interested in pharmacy to grow. San Diego is surrounded by a number of hospitals, pharmaceutical companies and other organizations that provide enriching internships to students. I also love how the class size at SSPPS is smaller than most other pharmacy schools because the students and faculty create more meaningful relationships.