Meet

 

Christian Cazares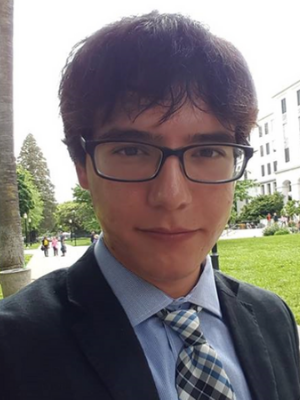 Tell us a bit about your educational background: I am native to Mexicali, Baja California, Mexico. I am a third-year graduate student in the Neurosciences Program. After graduating from the University of California, Berkeley with a bachelor's in cognitive science, I set off to Philadelphia for two years where I did post-baccalaureate research at the University of Pennsylvania.
What are you studying/ researching? Currently, as a member of the Gremel Lab, I research how brain signals underlying goal-directed actions are perturbed by alcohol dependence. As a National Science Foundation Graduate Research Fellowship (NSF-GRFP) recipient, I've led workshops on how to write research fellowship applications with various campus organizations. In the long-term, I will keep pursuing an academic research path, with the goal of managing my own systems neuroscience research lab.
Why UC San Diego? I chose to come to UC San Diego not only due to the prestige of its collaborative neuroscience research groups but also due to the campus' proximity to California's picturesque coast-line and perpetually perfect weather. I spend my time outside of the lab playing video games, watching sports, and putting together events for Colors of the Brain, a graduate organization I founded alongside other graduate students of color that aims to increase minority representation in the brain sciences.