Meet

 

Brittnie Bloom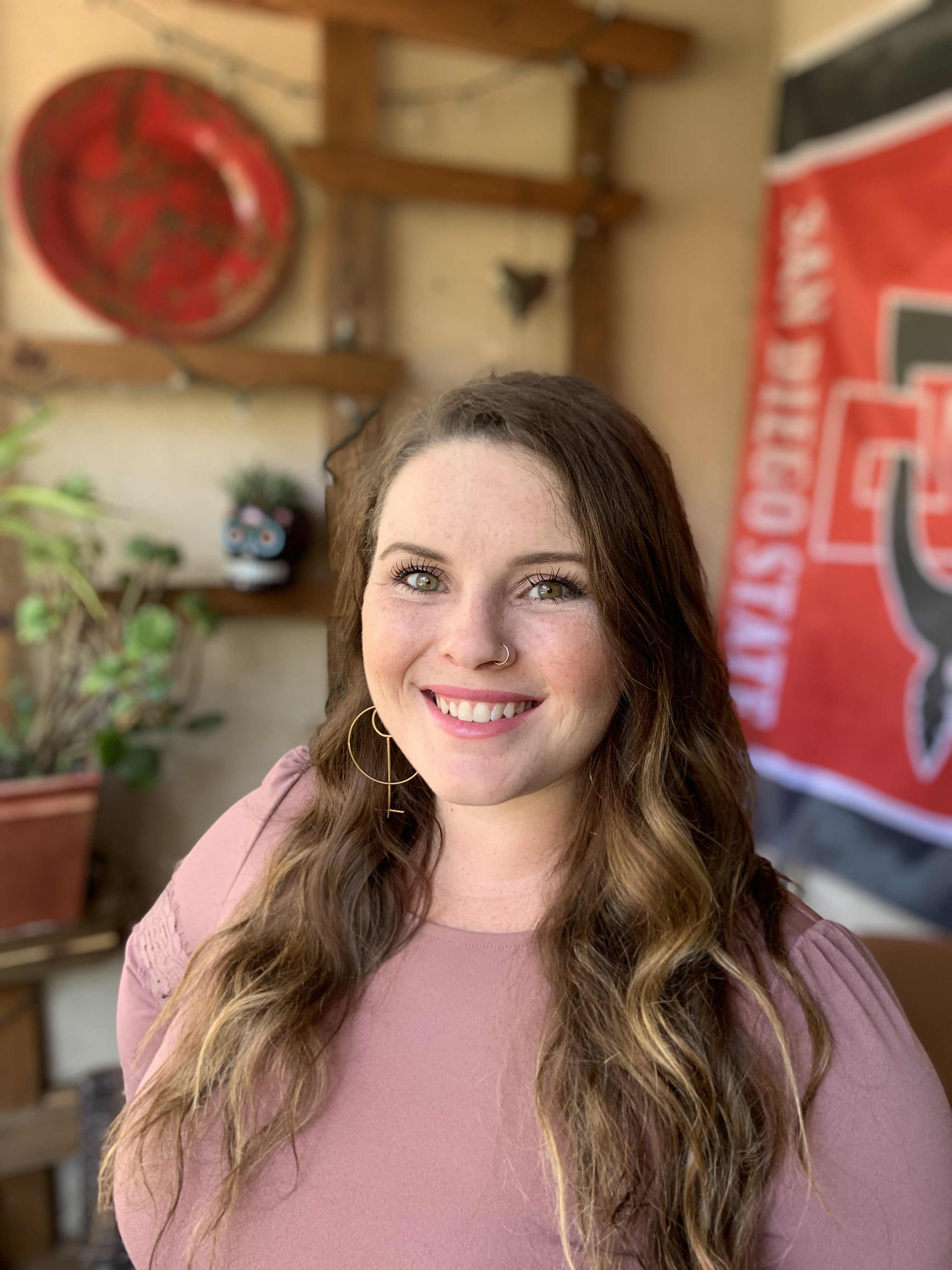 Tell us a bit about your background: I was born and raised in San Diego, CA. I received my B.A. in Psychology and English with a minor in Counseling and Social Change from San Diego State University. I am a proud first-generation college student and was supported by the Ronald. E. McNair Scholars Program as an undergraduate. I received my M.S. in Public Health (Community Health Sciences - Health Promotion and Health Education) from UCLA. There, I received the GRFP award and engaged in research centered on identifying survivors of human trafficking and domestic violence and improving referral processes for them in local health centers. After graduating from UCLA I came back to San Diego and, among other things, began volunteering for Center for Community Solutions as part of their sexual assault first-response team where I provided care and advocacy for survivors. That experience was the catalyst that pushed me to apply for a Ph.D. in public health, so I could continue to learn more about how to make our communities safer from sexual violence, especially for women, girls and other minoritized populations who are at increased risk.
What are you studying/researching? As a Joint Doctoral Student, I have benefitted from the expertise and mentorship of faculty from both UCSD and SDSU - including being a Gender, Equity and Health (GEH) fellow. Dr. Elizabeth Reed is my doctoral advisor - she is overseeing my work focused on sexual violence prevention on university campuses in the US and abroad. I am exploring many aspects related to campus-based sexual violence, including how graduate students are uniquely vulnerable to different forms of sexual violence and exploitation. I am also exploring pre-college and in-college interventions, such as comprehensive sex education and bystander behavior, that may mitigate risk for experiencing sexual violence. I am also interested in formal and informal help-seeking behaviors post-experience(s) of sexual violence.
Tell us about your campus involvement at UC San Diego: During my first three years in the Joint Doctoral Program, a handful of undergraduates and a fellow graduate student formed a student group entitled Tritons For Gender Equity (T4GE); we held a handful of campus events geared toward changing some of the norms on our campus (i.e., pronoun usage) and highlighting gender equity in a global context. I am now part of a group of graduate students in the Joint Doctoral program that is focused on anti-racism; together we have hosted a handful of community events, created speaker series on racism in public health and raised money to provide bias and anti-racism training to our fellow graduate students at UCSD and SDSU. I have been involved in the greater UC community, serving as a Student Ambassador for UCSD in the Global Health Institute (GHI) Center of Expertise on Women's Health, Gender and Empowerment (WHGE). I love working with undergraduates and have had the pleasure of working closely with a handful of them as their unofficial mentor, including in my past position as the Program Manager for the NIH-funded Initiatives for Maximizing Student Development (IMSD) Program at SDSU, where I worked with students who were first-generation to college, low-income, veterans, students of color, students living with disabilities and women in STEM! I live in the college area near SDSU, and as a born and raised San Diegan I love our year-round amazing weather and climbing our many mountains. Pre-Covid one of my favorite things to do was sing karaoke! I'm looking forward to taking the stage once more and singing my heart out.
Why UC San Diego? I chose the Joint Doctoral program due to its many faculty who share my interests in combating gender-based violence. Though it was not founded when I applied, I am extremely proud of the interdisciplinary nature of the Herbert Wertheim School of Public Health and Human Longevity Science and its efforts to pursue equity in our fields and on our campus as a whole being led by Dr. Cheryl Anderson - one of the best professors I've had the chance to learn from.
What has been your favorite part about your graduate experience at UC San Diego? I'd have to say my cohort; being in graduate school during a pandemic has not been easy. In graduate school, it is so easy to become isolated and disconnected, and I think the possibilities of that happening during quarantine and social distancing become substantially increased. In our JDP, we truly have a multi-year, multi-track community that checks in on each other and pushes each other toward success. I'll be forever grateful to the JDP for that.
Have you received any awards or fellowships? 2020 Best Doctoral Abstract, Community Health Planning & Policy Development, APHA; 2018 UCSD Global Health Institute – Student Field Experience Award; 2018 SDSU Graduate Student Travel Fund Award; 2017 Yale Ciencias Academy Fellow, NIH-Funded, Yale University and University of Puerto Rico
Anything else you'd like to share: As a fourth-year Ph.D. candidate in Global Public Health, I am excited to look back on my journey through this doctoral program and see all the things I have accomplished with the encouragement and support of my mentors, cohort-mates, family and friends. I have learned so much about the importance of community engagement and how to highlight / center the voices of those I work with in our collective push for social change, social justice and policy reform. We must all be asked to sit at the decision-making table and dismantle the top-down power structures that hinder real change from occurring. I have worked with incredible faculty throughout the UC system in these efforts. I hope to continue pushing my skills as I become a more well-balanced mixed-methods violence prevention researcher and community health advocate.