Meet Stacie Vos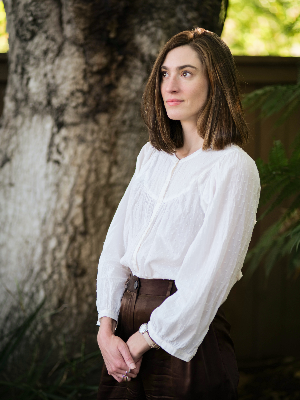 Tell us a bit about your background: I am from Michigan; I studied at Kalamazoo College, then did master's programs at Smith College and Yale Divinity School. 
What are you studying?: I am studying Medieval English Literature, with an emphasis on devotional prose and lyrics that praise the Virgin Mary. I anticipate graduating in 2021.
Describe your involvement in the UC San Diego community:
I was the first graduate coordinator for the Global Early Modern Studies research group. I enjoy taking yoga and dance classes when I can, especially Kristin Arcidiacono's ballet courses. I teach at Revelle College and continue to mentor my students from the year-long course Literature of the British Isles, for which I was a TA.
Why did you choose UC San Diego?: The Literature department of UC San Diego has a history for its focus on literary theory; as a reader of Barbara Johnson and other critics in the school of deconstruction, I was drawn to a department that would allow me to bring together my diverse areas of study from the past several years. A crucial part of my decision was the opportunity to work with my Ph.D. advisor Seth Lerer, a leading scholar in the fields of medieval and early modern literature whose expertise is matched with a dedication to engaging classroom pedagogy. Before even beginning my program, I spoke with most of the members of my current doctoral committee. One of these faculty members, Page duBois, assured me that UC San Diego was the most exciting place to be. Also, I liked the hummingbirds and the Bruce Nauman sculpture I saw when I came to visit the beautiful campus. 
Have you been awarded any fellowships or grants?: I was awarded a travel grant from my home department, a Dean's Travel Award, and an IAH Summer Graduate Fellowship.
What has been your favorite part about your graduate experience at UC San Diego?: Being able to share my research with undergraduate students both in the sciences and in literature has been a very rewarding experience for me. I also like how it is nearly impossible at UC San Diego to get stuck in a rut with one's research; students here have daily opportunities to work across various fields and time periods.