Meet Matthew Wills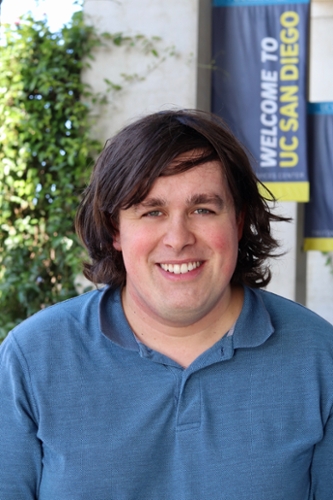 Tell us a bit about your background: I am originally from the United Kingdom and received my bachelor's degree from Oxford University where I studied history. I decided to come to UC San Diego when my undergraduate advisor (now my graduate advisor) found a position at UC San Diego. After completing my studies at Oxford, I lived in Beijing, China for two years and studied Mandarin Chinese. I would consider myself fluent for my purposes.
What are you studying/researching? I am a sixth-year Ph.D. student studying history at UC San Diego. My studies are focused on book publishing and propaganda in China. During my time on this campus, I've served as a teaching assistant for multiple history classes and, most recently, as a Writing Hub advisor in the Teaching + Learning Commons in Geisel Library. I enjoy helping students find what they need. When starting this doctorate program, I originally leaned toward becoming an academic, but now I'm more open to the idea of doing archival work in a museum or library setting. Recently, I curated an exhibition in Geisel Library of 1970s propaganda pieces.
What do you do in your spare time? You can often find me with a book. As a graduate student who reads for research often, it is so much of a treat to read for pleasure without having to take notes. I also enjoy taking advantage of the San Diego sunshine and walk to school, reading simultaneously. I have a great appreciation for and fascination with paper products, both new and old. I enjoy visiting coffee shops and eateries around San Diego and elsewhere, collecting unique paper napkins and coffee cup sleeves. I like comparing the different designs and words on the paper products, noticing how they differ by location and over time. I also take pleasure in collecting typewriters and using them to send typed messages to friends and family.