UC LEADS
Leadership Excellence through Advanced Degrees
The University of California makes a unique contribution to the State of California by preparing future generations of leaders in industry, government, and academia. California's many economic challenges include the imperative to develop leaders with multicultural competence who can guide the State and nation in a global economy. The University of California seeks to educate dynamic leaders who can keep pace with the world's science and technological innovations and also work effectively in the culture diversity of the global economy.
The UC LEADS program prepares promising undergraduate students for advanced education in science, technology, engineering, and mathematics (STEM). This program is designed to identify educationally or economically disadvantaged undergraduates enrolled in UC San Diego who are likely to succeed in graduate school, and to provide these students with undergraduate educational experiences that will prepare them to assume positions of leadership in industry, government, public service, and academia following completion of a doctoral STEM degree.
Once chosen as UC LEADS scholars, the students embark upon a two-year program of scientific research and graduate school preparation guided by individual Faculty Mentors. Scholars are provided with an excellent opportunity to explore their discipline, experience a research environment, and improve their opportunities for future study in their chosen field. The scholar gains valuable educational experience, the University a better prepared and more diverse graduate applicant pool, and the state, well-educated future leaders. Each scholar is mentored by a member of the UC faculty, who assists the student in designing a plan of research and enrichment activities fitted to the individual interests and academic goals of the scholar.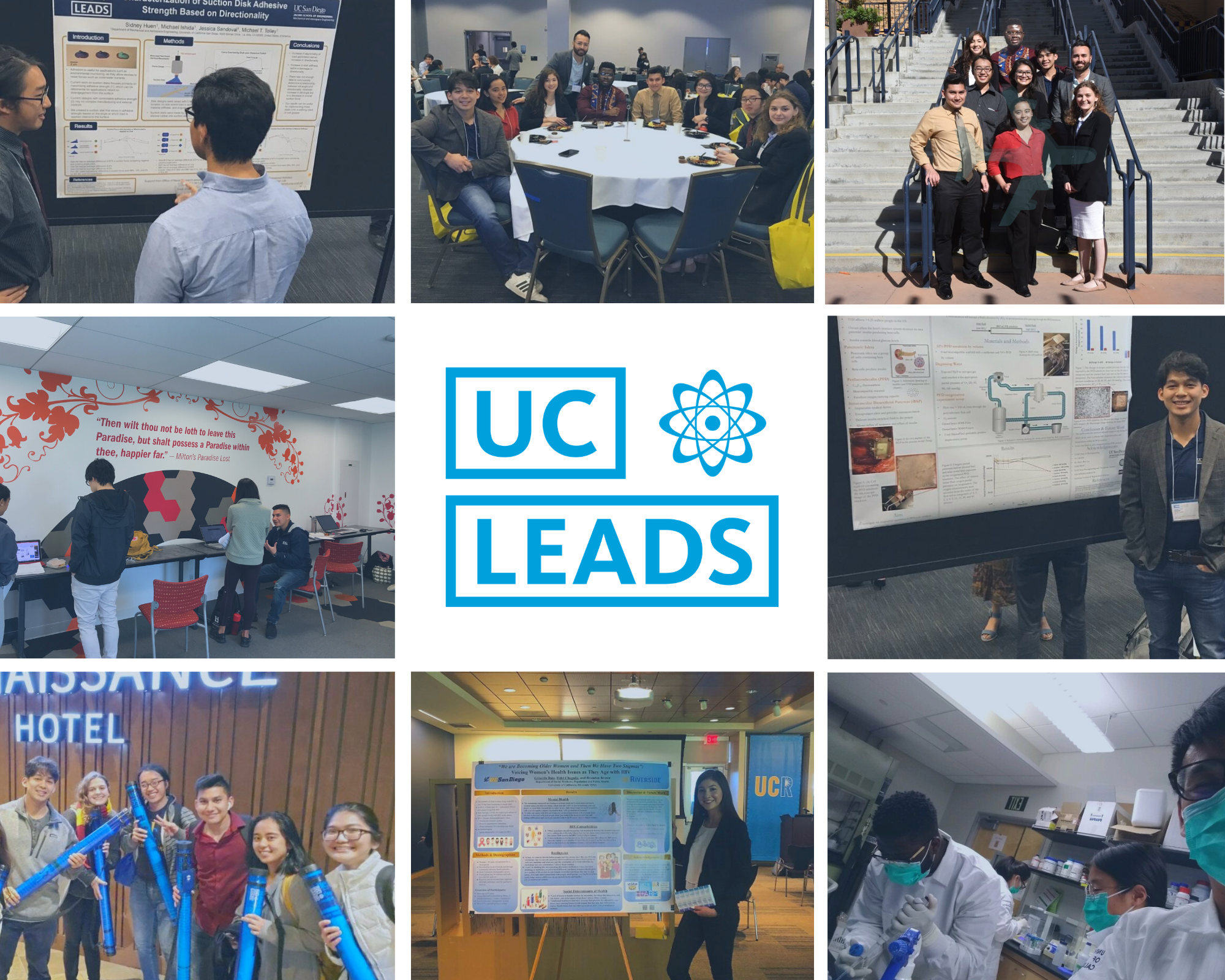 Components & Benefits
Two paid summer research experiences, one at UC San Diego, the second at a UC of your choice
Year-long undergraduate research support
Graduate school preparation and advising
Travel funding to attend professional meetings or scientific conferences
Membership to a professional society
Poster presentations at the annual UC LEADS Research and Leadership Symposium
Application fee waivers to UC graduate programs
Leadership development
Opportunity to meet other students interested in STEM on campus but also across the UC system
GRE preparation
Potential source of letters of recommendation
Eligibility 
The UC LEADS program is open to any students who meet the following criteria:
Must be in a science, technology, engineering, or math (STEM) major
Must be a second year undergraduate student or a third year, with two more years until graduation. This is a two-year program and the scholar will need to be available during those two full academic years

Must be graduating in 2023 (It's recommended you confirm this graduation time with your college advisor)

Students must be a U.S. citizen or permanent resident
AB540 students are eligible to apply
Minimum 3.0 GPA for consideration
Interested in scientific research and pursuing a PhD degree after graduation
Successful applicants must also demonstrate experiences, situations or conditions that have adversely impacted their advancement in a STEM field of study.
Individuals who are underrepresented in the graduate student and faculty populations in STEM fields of study are strongly encouraged to apply.
Application
The application period is now CLOSED for the 2021-2022 cohort. 
Application Materials:
Statement of Interest (max. 2 pages, single spaced)

Describe your desired research area of interest and why it interests you.
Discuss why you are interested in participating in an undergraduate research program and what you feel you can gain from this experience.
Discuss why you are interested in pursuing a graduate degree, what kind of graduate degree, and what you plan to do with that graduate degree (career objective).
Describe your educational background and achievements, providing information on barriers (educational, social, and/or cultural) you may have personally faced and how you overcame them.

UCSD unofficial transcript (Tritonlink printout)
UCSD financial aid award letter (Tritonlink printout)
1 letter of recommendation 

This letter of recommendation is required from a faculty advisor, course instructor, TA or employer (one who is familiar with your scientific skills). 
Recommender can email the letter in PDF format to ucleads@ucsd.edu with the Student's Full Name in the subject line.
Contact
Please direct questions to:
Edgar Beas
UC LEADS Campus Coordinator
ucleads@ucsd.edu