Competitive Edge
The Graduate Division offers Competitive Edge as a summer transition program for selected incoming graduate students. This six week program is designed to give selected graduate students an opportunity to begin research prior to the start of their graduate program and to acclimate to the campus environment. Competitive Edge is motivated by the campus's commitment to be fully inclusive and supportive of all students, and by the belief that a diverse graduate student body enhances the quality of the educational experience for all students. This year's program will take place virtually from August 2 through September 10, 2021.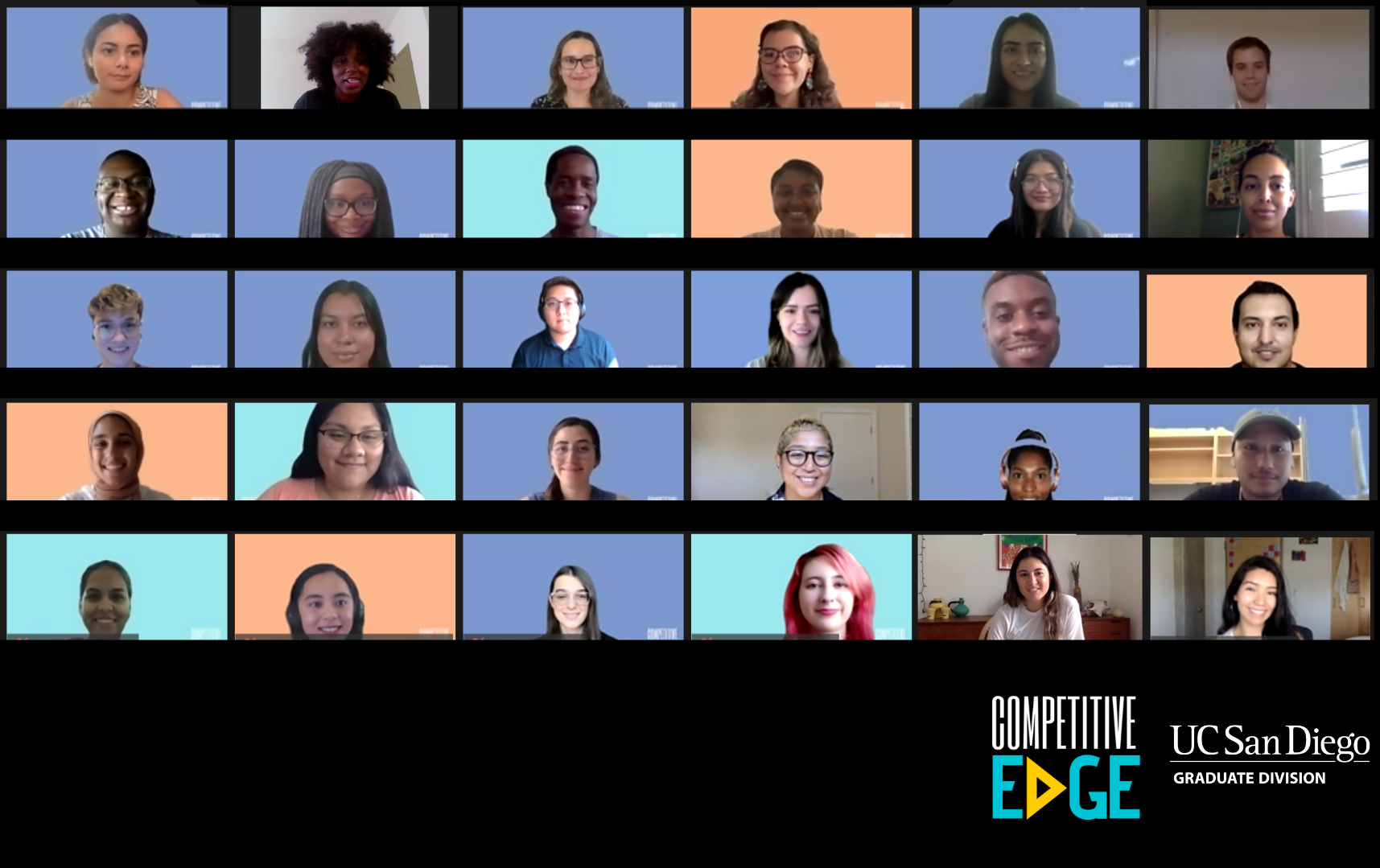 Advanced introduction to UC San Diego faculty
Advanced introduction to key UC San Diego campus resources
Early move-in to graduate campus housing
Acquisition of critical writing, teaching, and communication skills through workshops and lectures
Early mentorship from UC San Diego faculty and peer mentors
A community-like experience with support from a peer cohort and the UC San Diego Graduate Division
Summer stipend of $4,000
Priority is first given to students receiving a Graduate Division Diversity Fellowship (San Diego and Cota Robles, SEED, STARS, Tribal Membership Initiative)
Departments may sponsor participation into this program for students who did not receive a Graduate Division Diversity Fellowship. Participants do not directly apply to the Competitive Edge program. 
All participants must be doctoral or MFA students entering their first year of graduate study at UC San Diego.
Student must be a US citizen, Permanent Resident, or AB540 eligible.
Participants must commit to a full-time, six week summer program prior to their enrollment as a doctoral or MFA student at UC San Diego. Commitment includes 30-40 hours of research per week, along with readiness workshops, lectures, and other preparatory events.
In addition to the research experience, participants are required to attend workshops to acclimate them to the campus environment. Workshop facilitators are members of the UC San Diego community and serve as faculty, staff or continuing graduate students in various academic fields. In addition to the workshops, participants are expected to attend an orientation at the beginning and a luncheon at the conclusion of the program.
Each Competitive Edge student is expected to work with a summer faculty mentor from their respective departments. The faculty mentor will provide guidance on a research project, new or existing. The project does not have to be completed during the 6-week program, which allows the scope of the project to span the entirety of the summer quarter, through the Fall quarter, or beyond.
At minimum, meetings between Competitive Edge Fellows and their respective mentors should occur every other week. Ultimately, this depends on the nature of the project, the amount of oversight each student requires, and the level of mentorship the faculty member is able to provide.
In addition to research, the faculty mentor can provide an introduction and guidance to the department, as well as any tips on how to make the most of the summer, first quarter, and first year of their graduate experience.
| | |
| --- | --- |
| Michael Hillyer | PhD Student, Anthropology |
| Christopher-Michael Rojas Moreno | PhD Student, Anthropology |
| Daniella Vo | PhD Student, Bioinformatics and Systems Biology |
| Ugbad Farah | PhD Student, Biology |
| Grant Norton | PhD Student, Biomedical Sciences |
| Consuelo Sauceda | PhD Student, Biomedical Sciences |
| Christian Pascual | PhD Student, Biostatistics (Family Medicine and Public Health) |
| Alexis Day | PhD Student, Chemistry |
| Julianna Follmar | PhD Student, Chemistry |
| Cristian Garcia Alcaraz | Doctoral Student, Clinical Psychology |
| Amber Keller | Doctoral Student, Clinical Psychology |
| Elizabeth Rangel | Doctoral Student, Clinical Psychology |
| Matthew Fain | PhD Student, Cognitive Science |
| Marwa Abdalla | PhD Student, Communication |
| Keven Hernandez | PhD Student, Communication |
| Paul Ngo-Pham | PhD Student, Electrical and Computer Engineering |
| Ashley Batchelor | PhD Student, Education |
| Wendy Cheung | PhD Student, Education |
| Benjamin Kennedy | PhD Student, Education |
| Miguel Sanchez Morquecho | PhD Student, History |
| Trent Simmons | Doctoral Student, Language and Communicative Disorders |
| Michelle Gonzalez de la Cruz | MA Student, Latin American Studies |
| Kelsey Wardlaw | MA Student, Latin American Studies |
| Claudia Duarte Borquez | PhD Student, Linguistics |
| Milad Mayel | PhD Student, Linguistics |
| Jessica Lizarraga | PhD Student, Literature |
| Emma Hopkins | PhD Student, Materials Science and Engineering |
| Jackelin Amorin Cotrina | PhD Student, Mechanical and Aerospace Engineering |
| Nicolas Herard | PhD Student, Mechanical and Aerospace Engineering |
| Stephanie Ortega | PhD Student, Mechanical and Aerospace Engineering |
| Napoleon Touafek | MFA Student, Literature |
| Raymundo Miranda | PhD Student, Neuroscience |
| Emily LaRosa | PhD Student, Philosophy |
| Mayia Vranas | PhD Student, Physics |
| Jesus Rojas Venzor | PhD Student, Political Science |
| Devin Wright | PhD Student, Political Science |
| Katie Christman | PhD Student, Psychology |
| Patricia Dionicio | Doctoral Student, Public Health |
| Victoria Telles | Doctoral Student, Public Health |
| Michael Allen | PhD Student, Scripps Institution of Oceanography |
| Nicole Clizzie | PhD Student, Scripps Institution of Oceanography |
| Briana Pessanha | PhD Student, Scripps Institution of Oceanography |
| Taiwo Sokan | MFA Student, Theatre - Acting |
| Cambria Herrera | MFA Student, Theatre - Directing |
| Noah Keyishian | MFA Student, Theatre |
| Arlene Mejorado | MFA Student, Visual Arts |
| Lorena Ochoa | MFA Student, Visual Arts |
| Amir Saadiq | MFA Student, Visual Arts |
| | |
| --- | --- |
|   | Kelechi Agwuncha                                                            MFA Student, Visual Arts |
|   | Sara Almalla                                                                      PhD Student, Ethnic Studies |
|   | Anthony Anderson                                                            PhD Student, Political Science |
|   | Mia Borzello                                                                      PhD Student, Cognitive Science |
|   | Marvic Carrillo Terrazas                                                    PhD Student, Biomedical Sciences |
|   | Matthew Carter                                                                  PhD Student, Linguistics |
|   | Ashley Cronk                                                                      PhD Student, Materials Science |
|   | Nathaniel James                                                                PhD Student, Anthropology |
|   | Reed Kendall                                                                      PhD Student, Education |
|   | Shai Nielson                                                                      PhD Student, Linguistics |
|   | Joseph Riley                                                                      MFA Student, Art History |
|   | Chiaki Santiago                                                                  PhD Student, Neuroscience |
| | Melonie Vaughn                                                                PhD Student, Neuroscience |
|   | Hannah White                                                                    PhD Student, Education |
| | |
| --- | --- |
|   | David Ochoa Cadena                                                   PhD Student, Bioengineering |
|   | Thien Hoang Doan                                                      MFA Student, Visual Arts |
|   | Jose Armando Fernandez Guerrero                           PhD Student, Linguistics |
|   | Jennifer Ellen Fromm                                                  PhD Student, Mechanical Engineering |
|   | Incamu Ray Huaute                                                     PhD Student, Linguistics |
|   | Sanaa Sameena Khan                                                 PhD Student, Education |
|   | Julian Gonzalo Kosacki                                               PhD Student, Bioengineering |
|   | Rochelle Alexia McFee                                                PhD Student, Ethnic Studies |
|   | Taylor Sherisse McKie                                                 PhD Student, Oceanography |
|   | Monica Newton Molgaard                                           PhD Student, Education |
|   | Lauren Ann-Ru Oey                                                      PhD Student, Psychology |
|   | Angel Payan                                                                  PhD Student, Chemistry |
|   | Meghan J Rossi                                                            PhD Student, Neuroscience |
|   | Carlos Anthony Vasquez                                            PhD Student, Chemistry |
Please direct inquiries about this program to: competitiveedge@ucsd.edu