UC LEADS
Pre-PhD STEM Undergraduate Research Program 
The UC LEADS program prepares promising undergraduate students for advanced education in science, technology, engineering, and mathematics (STEM). This program is designed to identify educationally or economically disadvantaged undergraduates enrolled in UC San Diego who are likely to succeed in graduate school, and to provide these students with undergraduate educational experiences that will prepare them to assume positions of leadership in industry, government, public service, and academia following completion of a doctoral STEM degree.
Once chosen as UC LEADS scholars, the students embark upon a program of scientific research and graduate school preparation. Scholars are provided with an excellent opportunity to explore their discipline, experience a research environment, and improve their opportunities for future study in their chosen field. Each scholar is mentored by a member of the UC faculty, who assists the student in designing a plan of research and enrichment activities fitted to the individual interests and academic goals of the scholar.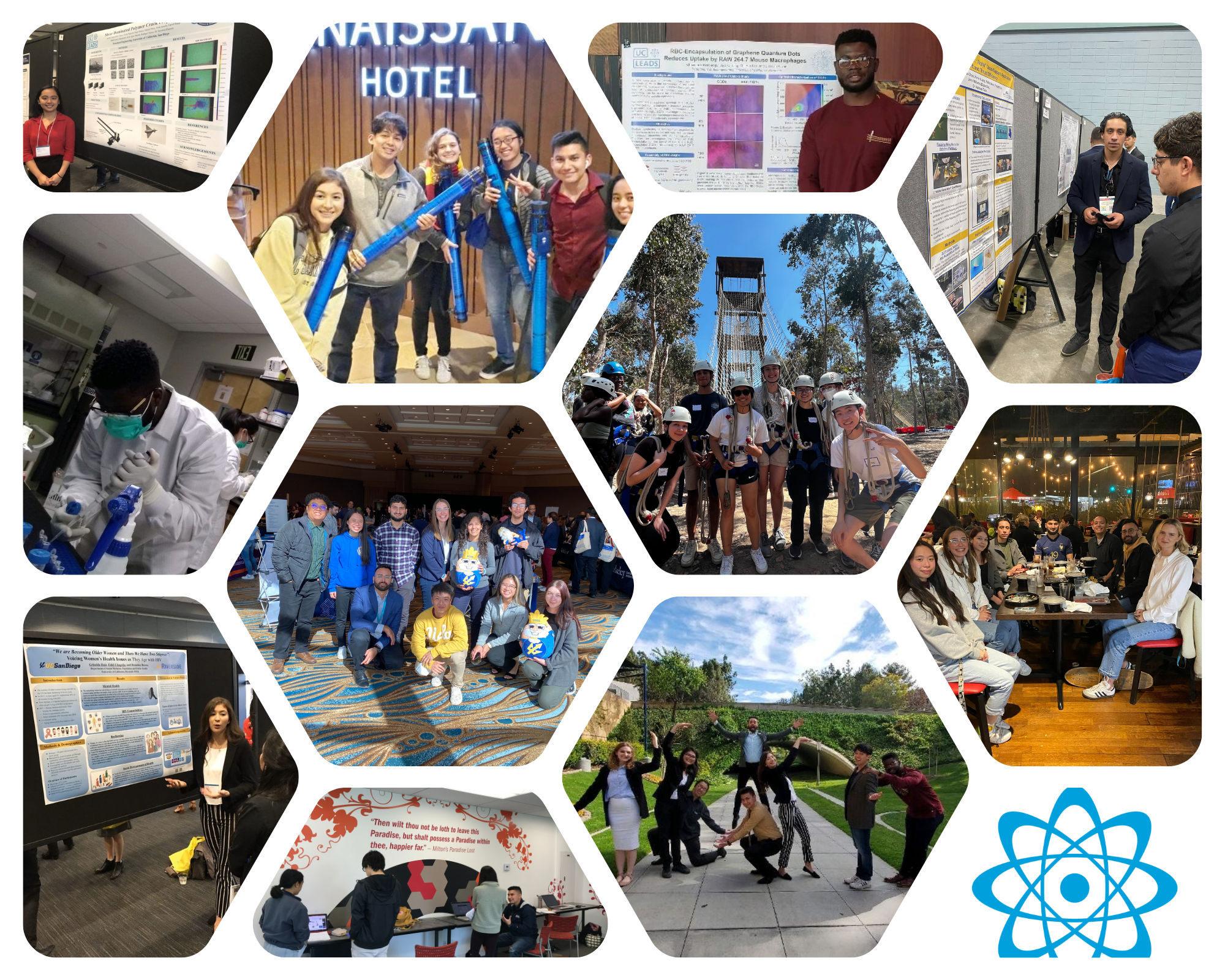 Program Components & Benefits
Paid summer research experiences, at UC San Diego and at other UC campuses
Graduate school preparation and advising
Travel funding to attend professional meetings or scientific conferences
Membership to a professional society
Poster presentations at the annual UC LEADS Research and Leadership Symposium
Application fee waivers to UC graduate programs
Leadership development
Opportunity to meet other students interested in STEM on campus but also across the UC system
GRE preparation
Potential source of letters of recommendation
The UC LEADS program is open to any students who meet the following criteria:
Must be in a science, technology, engineering, or math (STEM) major
For the 2-year program - Student must be a second year undergraduate student or a third year, with two more full academic years until graduation (It's recommended you confirm this graduation time with your college advisor)
Students must be a U.S. citizen or permanent residents (AB540 or DACA students are eligible to apply)
Minimum 3.0 GPA for consideration
Interested in scientific research and pursuing a PhD degree after graduation
Successful applicants must also demonstrate experiences, situations or conditions that have adversely impacted their advancement in a STEM field of study.
Individuals who are underrepresented in the graduate student and faculty populations in STEM fields of study are strongly encouraged to apply.
Steps to apply:
Fill and submit an online application 

Sections on the application include personal information, academics, co-curricular activities, and others. 
The applicant will need to copy and paste their statement of interest in the online application before submitting. Respond to the statement of interest questions below. 
All the questions in the application need to be completed before submitting, otherwise the application will be considered incomplete. 

Request one letter of recommendation 

This letter of recommendation is required from a faculty advisor, course instructor, TA or employer (one who is familiar with your scientific skills).
Your recommender would need to email the letter of recommendation to ucleads@ucsd.edu with the student name in the subject line. 
Applications for 2023 are closed. Please check back in Winter 2024.
Statement of Interest Questions (max. 1000 words)
Describe your desired research area of interest and why it interests you.
Discuss why you are interested in participating in an undergraduate research program and what you feel you can gain from this experience.
Discuss why you are interested in pursuing a graduate degree, what kind of graduate degree, and what you plan to do with that graduate degree (career objective).
Describe your educational background and achievements, providing information on barriers (educational, social, and/or cultural) you may have personally faced and how you overcame them.
| | |
| --- | --- |
|   |   Sam Lin | Senior | Economics & Applied Math Major |
|   |   Athena Leisching | Senior | Cognitive Science Major |
|   |   Adele Hong | Senior | Biology Major |
|   |   Antonio Loaiza | Senior | Bioengineering Major |
|   |   Daniel Maldonado Naranjo | Senior | Mechanical Engineering Major |
|   |   Vicky Chen | Junior | Biochemistry Major |
|   |   Claire Wellenkamp | Junior | Marine Biology Major |
|   |   Ali Kattee | Junior | Mechanical Engineering Major |
|   |   Jessica de la Torre | Junior | Mechanical Engineering Major |
|   |   Andrew Oabel | Junior | Computer Science Major |
If I have additional questions, who should I contact?


Please contact the program coordinator Edgar at eabeas@ucsd.edu

Can I do summer school or take summer courses and do this program?

Unfortunately no, you'll be required to do 35 hours a week of a faculty mentored research experience during the summer. 

I already have a UCSD faculty research mentor that I've been working with, can I still apply to this program?
I am a freshmen or senior, can I still apply?

Per our statewide efforts, every year we recruit sophomores or new transfer juniors to our program.

Will we have an opportunity to present our research?

Yes, every summer scholars do a 15 minute oral presentation and then a research poster presentation in March.
Contact
Please direct questions to:
Edgar Beas
UC LEADS Campus Coordinator
ucleads@ucsd.edu